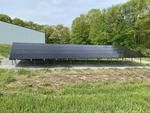 Wyalusing, PA Solar Panel Installation by Green Home Systems
Green Home Systems recently completed a solar panel installation for a customer in Wyalusing, PA. The customer, Patricia Manning, chose Green Home Systems for their competitive pricing, reputation, and craftsmanship. The main reason for recommending Green Home Systems was excellent service.
The solar panel system installed was an 11.68 kW grid tie-in system. The solar panels are Panasonic brand and the inverter is SolarEdge. The system was ground mounted with an IRONRIDGE racking system.
The installation process was challenging due to shading issues. Green Home Systems was able to overcome these challenges and provide Patricia with a solar panel system that will reduce her utility bill, save the environment, and increase the value of her home.
Patricia is very satisfied with the results achieved by Green Home Systems and would recommend them to anyone considering going solar.