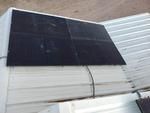 Green Home Systems recently completed a solar project for a customer in Odessa, TX. The customer, Kyle P, was looking for a way to save on his energy costs and reduce his carbon footprint. He chose Green Home Systems because of our competitive pricing and our reputation for craftsmanship.
The project took a couple of months to complete and involved installing 17.64 kW of solar panels on the roof of the customer's home. The results were impressive – the customer's energy bills are now significantly lower and his home has increased in value. He was very satisfied with our service and would recommend us to others.
If you're thinking about going solar, we encourage you to give us a call. We'll be happy to provide you with a free consultation and help you determine if solar is right for you.